Platinum, also known as Pt in our old abbreviation, as a naturally formed white precious metal, has always been considered one of the rarest and noblest metals. Corrosion resistance and other characteristics have become an indispensable material for luxury jewelry watches. Today, I will introduce three representative platinum watches to you.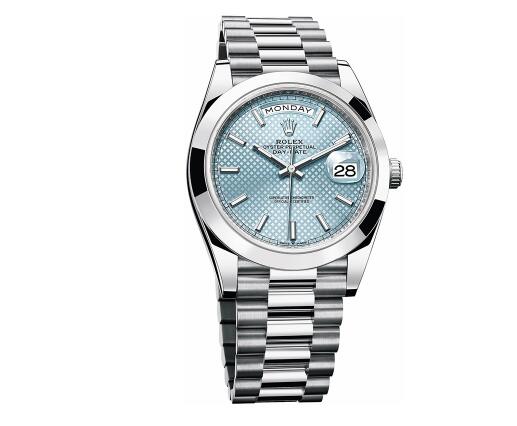 Rolex Day-Date Series m228206-0004
Product model: m228206-0004
Watch Diameter: 40mm
Movement type: automatic
Movement Model: 3255
Case material: 950 platinum
Waterproof depth: 100 meters
As soon as we come up, let's take a look at a fairly representative Rolex day-date type. The original platinum DAY-DATE has two characteristics, one is the aperture, and the other is platinum material with an ice blue disc. The aperture has always been said , Because platinum is too difficult to process, there is no pit pattern, that is, dog tooth ring, but with the watch exhibition a few days ago, the dog tooth ring platinum ice blue plate week calendar was launched, and this statement is gone. The week calendar pictured above was launched at the Basel Watch Fair in 2015, and the dial is very special. For the platinum material, Rolex always uses 950 platinum, the alloy contains 950‰ (per thousand) platinum, and is carefully cast by Rolex's superb metal craftsmen. The platinum Oyster case has a diameter of 40 mm. It was a new design back then. The platinum bezel is polished and matched with an ice blue dial specially formulated and developed by Rolex. The visual effect is already cold. , It is appropriate to describe it with ice carvings and jade carvings. The bubble mirror date display window is set at 3 o'clock, and the curved day display window is located at 12 o'clock. The watch was also the first batch of models equipped with the 3255 movement that year. As a Rolex movement with 14 patents, it showed an excellent level of precision in terms of precision, power reserve, shock resistance, anti-magnetic, and reliability. The watch comes with a head-shaped platinum bracelet.
Vacheron Constantin Historical Masterpieces Series 82035/000P-B748
Product Model: 82035/000P-B748
Watch Diameter: 40mm
Case Thickness: 8.06mm
Movement model: 4400 AS
Case material: 950 platinum
Waterproof depth: 30 meters
Vacheron Constantin's theme was classics at the Watch & Wonders Fair last April, for which the brand relaunched the American 1921 watch in a series of historical masterpieces. This watch is known as a crooked neck by watch fans because of its unique shape, but its unique shape is also due to the booming development of the auto industry at that time. A safe and clear glance can tell the time. This is the flagship platinum style in the new series, limited to 100 pieces, each with an independent number, and only available in Vacheron Constantin boutiques. The whole body of the watch is made of 950 platinum, and the visual effect may be large because of the pillow case, but it is actually 40 mm. The dial is rotated 45 degrees counterclockwise in an offset layout, and the crown is placed in the upper right corner. Sandblasted dial with 18K white Breguet needle, black orbital hour markers, small seconds at 3 o'clock, classic and charming. But this disk surface also made Vacheron Constantin work hard. According to the brand, because the bottom layer of the disk surface is actually 950 platinum, sandblasting inert metal on this material requires more exquisite craftsmanship. The watch is equipped with Vacheron Constantin 4400 AS manual winding movement, the movement is also offset, and the full chain can provide 65 hours of dynamic storage. The watch is equipped with a dark blue alligator leather strap. Look closely at the hand-stitched stitching. Vacheron Constantin is also hand-stitched with 950 platinum silk thread.
Blancpain Classic 6656-3440-55B
Product Model: 6656-3440-55B
Watch Diameter: 40mm
Case Thickness: 10.70mm
Movement Model: 5954
Case Material: Platinum
Waterproof depth: 30 meters
Finally, let's take a look at one of Blancpain's classic series perpetual calendar moon phase watches. This 6656, launched in 1919, is limited to 88 styles. Unlike the white plate used in stainless steel and red gold, Blancpain For the limited edition, a platinum case with a blue dial is used. 40mm diameter platinum case with iconic double-layer bezel, azure blue dial with sunburst effect, the layout inherits the iconic dial design of the brand's traditional perpetual calendar complication watches, with various indication sub-dials. Set at 3 o'clock, 9 o'clock and 12 o'clock on the dial, Blancpain's most distinctive moon phase face display window is at 6 o'clock on the dial, and the Roman numeral scales made of platinum on the dial are all hand-set, look at the scales carefully. They have all made a waist shape, combined with willow needles, to indicate the time combination is more elegant. The watch is equipped with a Cal.5954 manual winding movement, which has a special movement protection device developed by Blancpain for the perpetual calendar watch, which can avoid damage to the movement caused by improper operation. This big complication watch also has a hidden adjuster, which is also a patented invention of Blancpain. The fingertip can adjust the calendar pointer and the moon phase display by pressing the button, which is very convenient and will not affect the overall aesthetics if hidden.
In fact, for a fake luxury watch made of platinum, you may feel that the color is similar to that of platinum at a cursory glance, and then the price is so much more expensive. Therefore, there are many watch friends who define platinum watches as the purest watch. Platinum material is also difficult to process, which directly leads to platinum material. These top brands have naturally become a material symbol of luxury watchmaking. It is often said that it is low-key and luxurious, which is the best synonym for platinum watches. For the models listed above, the platinum material also complements the appearance and the function of the dial, and each has its own characteristics.